Events
GZERO Media Presents: A Live Conversation on Climate & Sustainability

Featured Speakers

Lucas Joppa, Microsoft

Gerald Butts, Eurasia Group

GreenBiz Webcast: How Leadership Companies Approach Audacious Sustainability Goals

Featured Speakers

Lucas Joppa, Microsoft

Joel Makower, GreenBiz Group

Chatham House Webinar: Countering Terrorist Use of the Internet

Featured Speakers

Courtney Gregoire, Microsoft

Fionnuala Ní Aoláin, United Nations

Nicholas Rasmussen,
Global Internet Forum to Counter Terrorism

Erin Marie Saltman, Facebook

Samir Saran,
Observer Research Foundation

Robin Niblett (Chair), Chatham House

Apps 4 Digital Peace: Virtual Awards Ceremony

Featured Speakers

Izumi Nakamitsu,
Under-Secretary-General, United Nations

World Economic Forum's Sustainable Development Impact Summit: "Pathways for an Economic Reset"

Featured Speakers

Achim Steiner, UN Development Programme

Brad Smith, Microsoft

Anne Finucane, Bank of America

Alan Jope, Unilever

Francine Lacqua, Bloomberg TV

Saadia Zahidi, World Economic Forum

Climate Week NYC Opening Ceremony: An Interview with Microsoft President Brad Smith and Nigel Toppings

UN Private Sector Forum: "From Promise to Practice: How Can Global Leaders Demonstrate Courage and Deliver on Commitments?"

Featured Speakers

John Frank, Microsoft

Peace One Day: Live Q&A with Microsoft President Brad Smith

Concordia Annual Summit: "Twenty-First Century Global Governance"

Featured Speakers

John Frank, Microsoft

Nicolas de Rivière,
Ambassador to the UN from France

Valentine Rugwabiza,
Ambassador to the UN from Rwanda

Concordia Annual Summit: "Advancing Diversity, Equity, and Inclusion for Greater Business and Social Impact"

Featured Speakers

Brad Smith, Microsoft

Janti Soeripto, Save the Children

James Lowry, Boston Consulting Group

EcoAct Webcast: 2020 Sustainability Reporting Performance Reports

Featured Speakers

Lucas Joppa, Microsoft

Concordia Annual Summit: "The Power of Technology in Refugee Education"

Featured Speakers

Kelly T. Clements,
UN High Commission for Human Rights

Kate Behncken, Microsoft

Joakim Reiter, Vodafone

GZERO Media Presents: A Live Conversation on Crisis Response & Recovery

Featured Speakers

Brad Smith, Microsoft

Ian Bremmer, Eurasia Group

UN Digital Cooperation Summit: "Protect the Digital Age" with Microsoft President Brad Smith

Concordia Annual Summit: "Leveraging Data to Hedge Geopolitical Risk"

Featured Speakers

Justin Spelhaug, Microsoft

Microsoft's UN Innovation Room: World Health Organization

Featured Speakers

Dr. Samira Asma, World Health Organization

Tolu Olubunmi (Moderator), United Nations

UN Secretary-General's High-Level Climate Change Roundtable, with Remarks from Microsoft President Brad Smith

Driving Sustainability Solutions - A Conversation with Women Leading the Climate Response

Featured Speakers

Michelle Patron, Microsoft

Marisa Buchanan, JPMorgan Chase

Ezgi Barcenas, Anheuser-Busch InBev

Raminta Jautokas, Honda

Venera Radulovic (Moderator),
Center for Climate and Energy Solutions

Microsoft's UN Innovation Room: World Food Programme

Featured Speakers

Enrica Porcari, World Food Programme

Tolu Olubunmi (Moderator), United Nations

A Foreign Policy Virtual Dialogue: The New Geopolitics of Data

Featured Speakers

Julie Brill, Microsoft

Adrian Lovett, World Wide Web Foundation

Justice B.N. Srikrishna,
Data Protection Committee, India

Wojciech Wiewiórowski,
European Data Protection Supervisor

GZERO Presents: A Live Conversation on Digital Inclusion - Connectivity and Skills for the Next Billion Jobs

Featured Speakers

Kate Behncken, Microsoft Philanthropies

Rohitesh Dhawan, Eurasia Group

Dominique Hyde, UNHCR

Parag Mehta,
Mastercard Center for Inclusive Growth

Lisa Lewin, General Assembly

Sherrell Dorsey (Moderator), The Plug

Microsoft's UN Innovation Room: UN Development Programme

Featured Speakers

Robert Opp, UN Development Programme

Tolu Olubunmi (Moderator), United Nations

GZERO Presents: A Live Conversation on Digital Peace - Trust and Security in Cyberspace

Featured Speakers

Tom Burt, Microsoft

Marietje Schaake, Stanford University

Marina Kaljurand, European Parliament

Dapo Akande, University of Oxford

Meredith Sumpter (Moderator),
Coalition for Inclusive Capitalism

Microsoft's UN Innovation Room: Leveraging Digital and Multistakeholder Engagement to Reimagine the SDG Impact Agenda

Featured Speakers

Dr. Samira Asma, World Health Organization

Enrica Porcari, UN Food Programme

Robert Opp, UN Development Programme

Justin Spelhaug, Microsoft

Tolu Olubunmi (Moderator), United Nations
Features from Microsoft's UN Affairs Office
Building on Microsoft's history of partnership with the UN and its commitment to multilateralism, the company established a United Nations representation office in New York in March 2020. This team aims to deepen Microsoft's support for the UN's mission and work, including by advancing global multistakeholder action on key technology, environmental, humanitarian, development, and security goals.
Advancing Human Rights Through Technology: A Microsoft and United Nations Partnership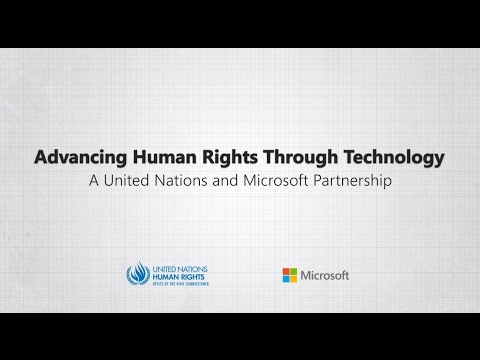 Learn more about a landmark five-year partnership between OHCHR and Microsoft, focusing on the use of technology to better predict, analyze, and respond to critical human rights situations.
Learn More About Our Engagements